S311
S311 is a bicycle seatpost with an integrated rear-light (with 5 LEDs). There are 3 types of S311: S311, S311E, S311D. The power source of S311 is an integrated rechargeable battery, the battery can be charged via a micro-USB port. S311E is connected to an external power source via a connection cable, for example to the battery of an e-bike. S311D is powered by a dynamo hub.
S311 (Battery)
Seatpost test standard

ISO 4210 mountain or ISO City

LED-unit

There are 2 modes to choose from:




– 5 LED mode (all 5 LEDs light up)




– 3 LED mode / energy saving mode (only the top 3 LEDs light up)

Function

The second top LED functions as a button and is used to operate the real light.




Light modes:




Off → 5 LEDs → 3 LEDs → Long press to witch off

Power source

Lithium polymer battery 3.7V, 800mAh




type: 801473, with integrated overcharge protection

Light duration




(fully charged battery)

5 LED: 10 hours




3 LED: 15 hours

Charging

Micro-USB 2.0 port integrated in the seat rail clamp with a transparent silicone cover for splash-water protection.




Charging voltage: 5 V




Charging current: 0.5 A – 2.0 A

Charging time

2.5 hours

Charge state

Indicated by a blue LED integrated into the micro-USB port.




As soon as this LED lights up, the battery still has enough capacity to power the LEDs for 1 more hour in accordance with the regulation.




The micro-USB port is covered with a transparent silicone cap so that the blue LED is visible.

Package contents

Rear light seatpost, USB charge cable (200cm)

Approval code

K1595
S311D (Dynamo)
| | |
| --- | --- |
| Seatpost test standard | ISO 4210 mountain or ISO City |
| Function | Lights up when AC power is supplied |
| Power source | Dynamo AC |
| Power consumption | 0.5W |
| Nominal voltage | AC 6V (3W) |
| Package Contents | Rear light Seapost, extension cable (200mm) |
S311E (E-bike)
Seatpost test standard

EN 15194 or ISO 4210 mountain

Function

The Rear light is operated by the light switch of the e-bike system.

The Rear light does not have modes.

Power source

On-board battery of the e-bike. The Seatpost can be operated with on-board voltages (direct current – DC) from 6 V to a maximum of 12V. The electrical connection is made with different cables and connectors in compliance with the relevant regulations.

Power consumption

0.3W

Nominal voltage

DC 6V (6 V – 12V)

Package Contents

Rear light seatpost
Special seatpost design of S311
Patented seatpost with an integrated seat rail clamp. The seatpost tube features 5 holes in which the LEDs are enclosed.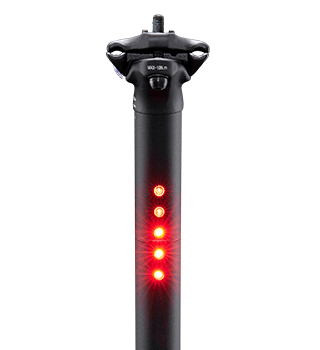 S311's USB 2.0 charging port is in the lower section of the seat rail clamp. The port is accessible from the outside and can be closed using a transparent silicone cover.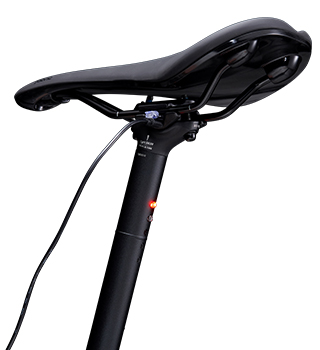 S311E or S311D's cable with a connector extends out of the lower end of the seatpost tube for connection to the electrical system of the e-bike or the bicycle dynamo.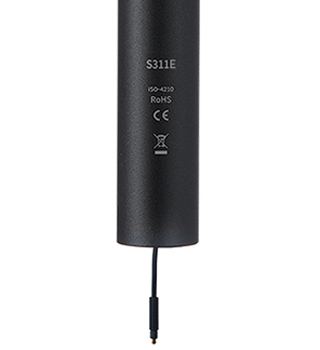 Features
| | |
| --- | --- |
| Diameter (see drawing) | 25.4㎜ / 27.2㎜ / 30.9㎜ / 31.6㎜ |
| Widths (see drawing) | 350㎜ / 400㎜ (D30.9mm / D31.6mm) |
| Color and surface finish | polished Silver / anodized Black. |
| Material | Aluminum 6061 T6 |
LED unit
5 LEDs with integrated electrical light control and battery management system. The two upper LEDs are protruding, also ensuring the lateral emission of light. The lower 3 LEDs are sunk into the seat post tube. The LEDs, circuit board and battery are enclosed in a plastic housing and are thus protected. (dust and splash proof in accordance with IPX5).
Operating temperature

Min.: -15°C, Max.: 45°C




Optimum storage temperature: 20-25° C

Compliant with standard or directive

RoHS, UN3481, StVZO §22a TA 14b (Bicycle rear light), IPX5
Assembly
Angle limits (frame seat tube) according to the StVZO

Min: 70.0°
Max: 76.0°