The S341 is a powered by a built in, non-removable, rechargeable battery.
This is a product that is charged with the included 2m long charging cable.
S341 is international version and provides various modes, you can select and use among various modes according to your needs. All five lenses are non-protruding, so when you want to lower the height of the saddle, you can insert the seat post all the way down and use it shorter.
Patented seatpost with an integrated seat rail clamp. The seatpost tube features 5 holes in which the LEDs are enclosed. The USB 2.0 charging port is located in the lower section of the seat rail clamp. The port is accessible from the outside and can be closed using a transparent silicone cover.
Diameter (㎜)

27.2 / 30.9 / 31.6

Length (㎜)

350 (D 27.2 / D 30.9 / D31.6),
400 (D 30.9 / D 31.6)

Color surface finish

Polished Silver / Matt Black

Seatpost Type

2 bolt clamp, offset 9mm

Seapost material

Aluminum 6061 T6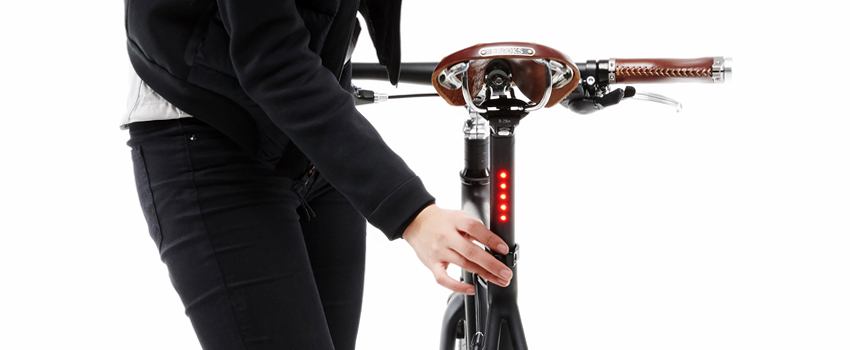 Seatpost test standard

ISO 4210 City(D 27.2),
Mountain(D 30.9, D 31.6)

Compliant with standard or directive

CE, RoHS, UN3481, IPX5

Package Contents

Rear light seatpost, USB charge cable (200cm)
The second top LED functions as a button and is used to operate the rear light.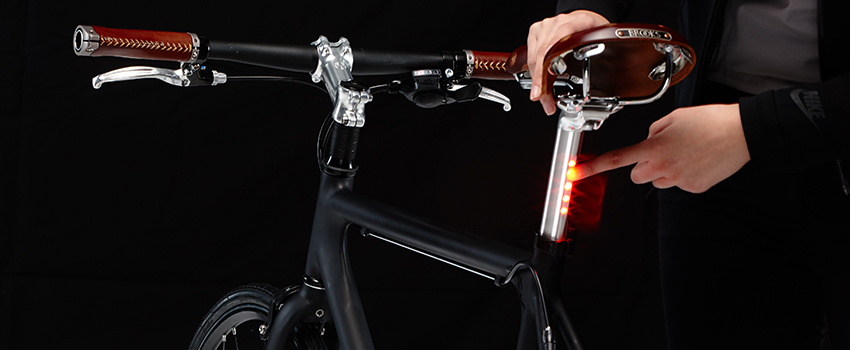 – Push and hold for 5 sec : change between the 3 and 5 light mode
5LEDs) chase → flashing → sparkling → continuous → off
3LEDs) chase → flashing → sparkling → continuous → off
| | | | | |
| --- | --- | --- | --- | --- |
| | chase  |  flashing  |  sparkling  |  continuous  |
| 5 LEDs | 20 | 20 | 50 | 10 |
| 3 LEDs | 30 | 30 | 100 | 15 |
 Battery life (hours)
Lens Type

Non Protruding

Light Module

 5 high brightness red LEDs,
Non Protruding LED Lens

Brightness 

15 cd

Power source 

Lithium-polymer battery 3.7V, 800mAh, 801473 with protection.

Light Duration (fully charged battery)

5 LED/contiuos : 10 hours
3 LED/sparking : 100 hours

Charging Time

2.5 h
Low battery alert

Indicated by a blue LED integrated into the micro-USB port. As soon as this LED lights up, the battery still has enough capacity to power the LEDs for 1 more hour in accordance with the regulation. The micro-USB port is covered with a transparent silicone cap so that the blue LED is visible.

Charging

Micro-USB 2.0 port integrated in the seat rail clamp with a transparent silicone cover for splash-water protection.

Charging voltage: 5V

Charging current: 0.5A – 2.0A

In order to reach the full load capacity, it takes about 2.5 hours. During charging, the first led flashes in RED. The flashing stops, changes to continuous red light on when the battery is completely charged. When the battery is fully charged, remove the cable from the USB port. Should the product become excessively hot during charging, stop the charging process. Never charge the battery when the USB port is wet. Full charge and discharge cycles 500.

Charging time

2.5 hours
The integrated lithium ion battery is charged via the micro 2 USB charging port beneath the saddle clamp. The charge indicator provides you with a charge status. If the charging socket lights up blue, the battery must be charged and 1 hour of light remains. Your safety and visibility on the road is of utmost importance to us.